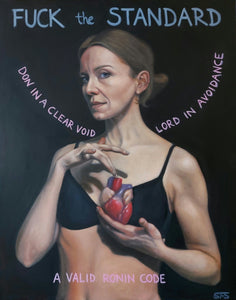 "AUTODIDAKT" Kunstner, Siri Fossum Storhaug. Olje på lerret. Størrelse, 100X80. Pris; 29.925 ,- (Inkludert 5% kunstavgift).
Kunstnerens tanker om verket:
«I have a hero.
Here comes Ana G and her triplets.
Karma eats the arrogant man.»
VED TRANSPORT AV DETTE VERKET TILKOMMER DET EN EKSTRA KOSTNAD, SOM MÅ DEKKES AV KUNDE. TA KONTAKT MED OSS, DERSOM DU ØNSKER PRIS PÅ SENDING, 920 26 754.