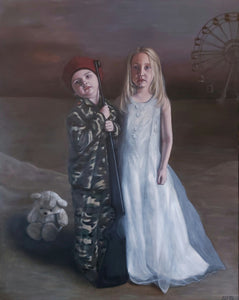 "The soldier and the bride" Kunstner, Siri Fossum Storhaug. Olje på lerret. Størrelse, 150x120. Pris; 58.275,- (Inkludert 5% kunstavgift).
Kunstnerens tanker om verket:
«Det er ikke akkurat julestemning jeg gir dere her,men det å tenke på andre er aldri feil - kanskje spesielt i den tiden vi er inne i nå.
Det at nordiske eller europeiske barn skulle måtte kjempe som barnesoldater eller stå brud - barnebrud,er helt utenkelig og vi er naturligvis alle imot dette.
Men gå ordentlig inn i deres egne hjerter nå,om vi kan se for oss at det er der empatien bor - og kjenn riktig godt etter: Hvordan hadde det virkelig føltes om det var våre barn?»
VED TRANSPORT AV DETTE VERKET TILKOMMER DET EN EKSTRA KOSTNAD, SOM MÅ DEKKES AV KUNDE. TA KONTAKT MED OSS, DERSOM DU ØNSKER PRIS PÅ SENDING, 920 26 754.