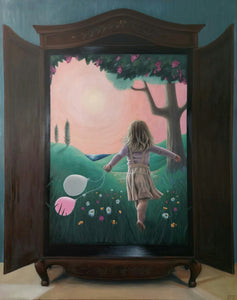 "To the Teacher. You could have found me in here if you just opened the door. From the child. " Kunstner, Siri Fossum Storhaug. Olje på lerret. Størrelse, 150x120. Pris; 58.275,- (Inkludert 5% kunstavgift).
Kunstnerens tanker om verket:
"Teachers are some of the most important people in the world.
They can be magical creatures in a creative little mind's life, if they just find the key to unlock the door.
If the Teacher (or other grown-ups of course) take their time to try and open the door, he or she will most likely be invited in - and by doing this they can find something extraordinary.
A creative little mind hiding in its own world, can do anything from expanding the Teachers mind, to - in some cases - change the world.»
VED TRANSPORT AV DETTE VERKET TILKOMMER DET EN EKSTRA KOSTNAD, SOM MÅ DEKKES AV KUNDE. TA KONTAKT MED OSS, DERSOM DU ØNSKER PRIS PÅ SENDING, 920 26 754.